2020 Scouts of the Year
The Middle Tennessee Council is pleased to introduce our 2020 Scouts of the Year. Please visit our website at https://www.mtcbsa.org/scout-of-the-year to learn more about outstanding class of Scouts this year.



2021 MTC Nashville Patron Luncheon
The Middle Tennessee Council is pleased to announce that the 2021 Nashville Patron Luncheon will be held on Tuesday, March 2 from 11:30 a.m. to 1:00 p.m. at the Renaissance Nashville Hotel. We are excited to have Mr. John C. Maxwell as our keynote speaker. Mr. Maxwell is a New York Times bestselling author, speaker, coach and leader. At the luncheon, we will also recognize our 2020 Scouts of the Year.
The Nashville Patron Luncheon is the Council's primary fundraiser and 60% of the 2021 campaign goal is raised at the event. The luncheon will follow all CDC and local health official's COVID guidelines.
For sponsorship opportunities or to host a table, please contact Kevin McMurrian, Director of Finance, at (615) 516-9065 or kmcmurrian@mtcbsa.org.
Silver Beaver Nominations
Do you know of an outstanding volunteer Scout leader that should be recognized for exceptional service to the Middle Tennessee Council? We are currently accepting applications for the Silver Beaver award. The Silver Beaver Award is a council level, distinguished service award created in 1931. Recipients of this award are registered Scouters who have made an impact on the lives of youth through service given to the Council. You can access the nomination form here, and all applications are due by November 30, 2020.
Derby at your Doorstep
Your next Scouting At Home opportunity is speeding your way! Race into the new year with our Derby at Your Doorstep. It will include two rank elective videos with materials, a campfire, and a pinewood derby kit with building and design tips that will help you win your District Derby this year!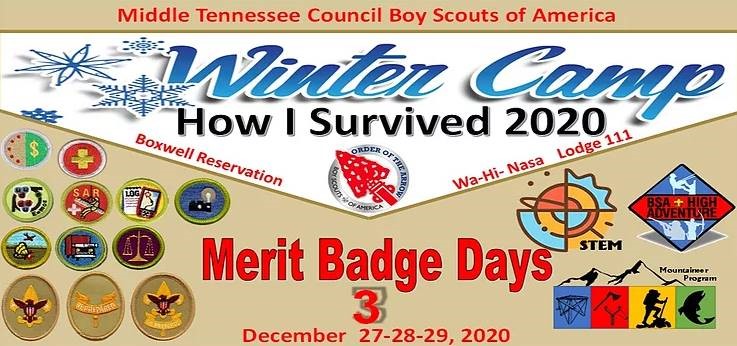 Winter Camp Merit Badge Days 3 is knocking at the door.
Sign up your Scout to give them the best present under the tree. That's right a day at camp earning a merit badge to help your Scout grow in Scouting. This unique Merit Badge Day is brought to you by our very own Order of the Arrow Wa-Ha-Nasa Lodge. The theme is How I survived 2020, this time your Scout will earn a themed patch, enjoy a hearty meal and receive an OA Campfire. We are offering 12 merit badges and have some fun new treks. These treks will have shooting sports, climbing, backpacking, fishing, tomahawks, sling shots, shooting rockets and more…. Sign up now to ensure your spot for fun and to make it an early Christmas present. See you all at Camp!
Webelos Winter Weekend
Middle Tennessee Council is proud to announce the annual Webelos Winter Weekend to be held January 8-10, 2021 at Boxwell Reservation at Cubworld.
This year's theme is CUBIEMON "Fire & Ice" Gotta catch em all!
Sign up and See you at camp!!!!! https://www.mtcbsa.org/webeloswintercamp
Summer Camp Staff
Join the 2021 Summer Camp Staff. This year will be an Historic year as Boxwell celebrates 100 years in the Middle Tennessee Council. To honor that we are bringing back the Red hats of Staff. Join the team, everyone new or old must fill out an application for 2021!!
OA Winter Banquet
Winter Banquet is coming up fast! It's an awesome event that consists of a night of good food and fellowship followed by a ceremony to celebrate the successes of the Lodge this year. This year's winter banquet is December 5th starting at 6:30 PM at Boxwell Scout Reservation. The cost of Winter Banquet this year is $20. This price does increase to 25$ on November 25th, so sign up quick. Registration completely closes on November 29th! Also, there is a limit of registrants this year, that way we abide by social distancing and make sure we have a fun safe night. So if you want to attend, act quickly! Can't wait to see everyone and celebrate a successful year!
Eagle Scout and Volunteer Recognition Reception
The Middle Tennessee Council annually holds the Eagle Scout and Volunteer Recognition Reception. We were unable to hold the reception in 2020, but we have scheduled the Reception for Sunday, April 25, 2021, starting at 1:30 p.m. at Lipscomb University - Allen Arena. Please mark your calendar and plan to attend to help celebrate the achievements of the Eagle Scouts and recognize our Silver Beaver recipients. During the Eagle Scout and Volunteer Recognition we will honor the achievements of our 2019 and 2020 Eagle Scouts as well as the 2020 and 2021 Silver Beaver recipients.
Silver Beaver nominations need to be submitted by November 30, 2020 to the MTC Service Center. We look forward to seeing you there!
2021 Camp Cards
Let's go camping for free! Simply selling cards helps the Scout earn their way to camp and provides discounts to many local vendors. This is a fantastic way to help fund most of your Scout camping needs, in that you can help pay for those events by selling CAMP CARDS! There will be regional cards available this year, so everyone across the Council can benefit from one of these cards. The sale will officially begin on February 2021 and registration will open in December. Each unit should be confirming your unit chair for the sale.



12 Point Scout Law Program
On March 1, 2020 the Middle Tennessee Council turned 100 years old. To help celebrate this milestone throughout the year, the Council's 100th Anniversary Committee developed many activities and events. A special program has been developed to allow unit programing or Scouts to focus on the 12 points of the Scout Law. Each Scout can decide how they will accomplish each point, and the unit will recognize them with the patch of the point they complete. This can be completed in any order. Scouts can complete specific requirements for each patch anytime between now and July 2021 and earn all 12! This program is determined by the leadership in the unit and the Scout with their family. Click here for more information.
Northern Tier High Adventure Program
In 1923, just 13 years after the birth of Scouting in the United States, organized Scout groups made their first trips into the Minnesota-Ontario Border Wilderness Country.
Northern Tier is the BSA's oldest National High Adventure Program, outfitting Scouting groups for canoe trips since the summer of 1923.
We invite all Scouts to join us in celebrating 100 years in the 2022 and 2023 summer seasons!
Philmont 2021- Does Your Troop or Crew Want to Go?
Has your troop or crew thought about going to Philmont but missed the opportunity to get scheduled for an adventure in 2021? Well here is your chance to go in 2021 if you are still interested. The Middle Tennessee Council has one crew available for 10 participants (could possibly expand to 12). The dates for this adventure are July 9-22. If your troop or crew is interested, please call Ron Turpin at 615-516-9751 to discuss details. This is a great opportunity for your youth, Don't Miss Out!