2021 MTC Nashville Patron Luncheon
Date & Location Change!
Because of COVID concerns, the Middle Tennessee Council has changed the date and location of the 2021 Nashville Patron Luncheon. The luncheon will now be held on Tuesday, May 11 from 11:30 a.m. to 1:00 p.m. at the Music City Center – Ballroom A. We are excited to have Mr. John C. Maxwell as our keynote speaker. Mr. Maxwell is a New York Times bestselling author, speaker, coach and leader. At the luncheon, we will also recognize our 2020 Scouts of the Year.
The Nashville Patron Luncheon is the Council's primary fundraiser and 60% of the 2021 campaign goal is raised at the event. The luncheon will follow all CDC and local health officials' COVID guidelines.
For sponsorship opportunities or to host a table, please contact Kevin McMurrian, Director of Finance, at (615) 516-9065 or kmcmurrian@mtcbsa.org.
2021 Camp Card Sale
The 2021 Middle Tennessee Council's Camp Card Sale will begin on February 22, 2021 and run through April 16, 2021. This $5.00 camp card will help your Scouts earn their way to camp and the unit will earn 50% commission on every camp card sold!
The Council will sell five different camp cards for 2020 depending on the location of your Scout unit:
Nashville Area
Clarksville
Columbia/Lawrenceburg/Pulaski
Cookeville/McMinnville
Murfreesboro
Tullahoma
Please click here to learn more, and to register your unit for this year's sale.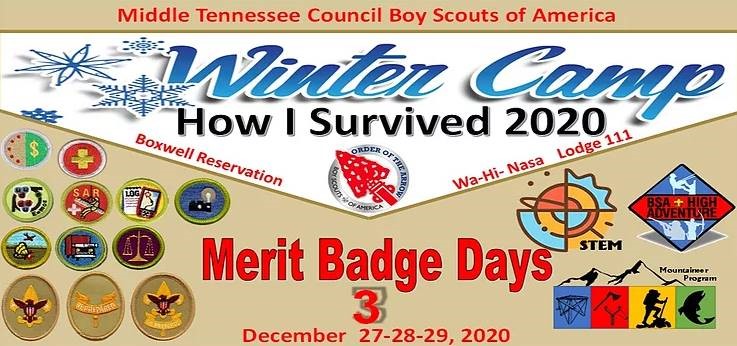 Winter Camp Merit Badge Days 3 is knocking at the door.
Haven't found that simple and best gift for your Scout this year? https://fb.watch/2jPOjDUpGm/
Sign up your Scout to give them the best present under the tree. That's right, a day at camp earning a merit badge to help your Scout grow in Scouting. This unique Merit Badge Day is brought to you by our very own Order of the Arrow Wa-Ha-Nasa Lodge. The theme is "How I survived 2020". This time, your Scout will earn a themed patch, enjoy a hearty meal and receive an OA Campfire. This year, we are offering 12 merit badges and some awesome new treks. These treks will have shooting sports, climbing, backpacking, fishing, tomahawks, sling shots, shooting rockets and more…. Sign up now to ensure your spot for fun and to make it an early Christmas present. Camp is in just a few weeks. See you all at Camp!
OA Winter Banquet 2020
In light of recent changes in the COVID-19 guidelines, Wa-Hi-Nasa Lodge's Winter Banquet 2020 has been moved to an online format. To ensure the quality you expect from our events, we are changing the date of the Winter Banquet to December 19th, 2020, at 7 PM CST.


We are excited to announce that Winter Banquet will be live streamed to Youtube and Facebook, allowing you to access the banquet on any device, wherever you are. Winter Banquet is going to be full of great content. From award presentations, live speakers, skits, and awesome ways to get that fellowship and show feel from your own home. With this new format we are looking forward to a completely new experience that we haven't provided in the past. To register for the event, which is just getting you the link for the stream once its available, go to wa-hi-nasa.org , and go to the Winter Banquet page. There you will find the link to the sign-up form.
Webelos Winter Weekend
The Middle Tennessee Council is proud to announce the annual Webelos Winter Weekend to be held January 8-10, 2021 at Boxwell Reservation at Cubworld. This year's theme is CUBIEMON "Fire & Ice" Gotta catch em all! This fun and unique program will allow your Webelos be able to earn 4 adventures. We are taking all Covid-19 precautions and look forward to having a great program for your Webelos. We have asked our Summer Camp staff to help with this years program and we are going to have a fun and exciting time.
Sign up and see you at camp!


Summer Camp Staff
Join the 2021 Summer Camp Staff. Plans are already underway to ensure that Summer Camp 2021 at Boxwell Reservation is an epic year and you will want to be a part of this team! Boxwell Reservation will turn 100 years old in 2021. Boxwell is making some big changes with updating and making our home better. 2021 will offer the same quality programs, traditions as we are accustomed to as well as new programs like ATVs, sailing, muzzleloader, fishing, and the new Skilled Trades Program at Parnell. With all the plans being made, we will not be able to do it alone. We will need you and your friends to be a part of this historic team in 2021 to make it happen. Please make plans to complete your 2021 application before December 31st 2020.
We Look forward to seeing you all on the team in 2021 and celebrate 100 years of Scouting at Boxwell Reservation. In celebration of the 100 anniversary, we would like to use the red hats for Staff hats as they did in the past, so you don't want to miss out on this opportunity. All new or returning staff must fill out an application for 2021!
Eagle Scout and Volunteer Recognition Reception
The Middle Tennessee Council annually holds the Eagle Scout and Volunteer Recognition Reception. We were unable to hold the reception in 2020, but we are scheduled for Sunday, April 25, 2021, starting at 1:30 p.m. at Lipscomb University - Allen Arena. Please mark your calendars and plan to attend to help celebrate the achievements of the Eagle Scouts and recognize our Silver Beaver recipients. During the Eagle Scout and Volunteer Recognition we will honor the achievements of our 2019 and 2020 Eagle Scouts as well as the 2020 and 2021 Silver Beaver recipients.
We look forward to seeing you there!
Stocking Stuffer
It is not too late to pick up a perfect stocking stuffer for that Scout or Scouter who is on the "nice" list! Visit your local Middle Tennessee Council Scout Shop for Centennial products (you only turn 100 once!), camping supplies, custom ornaments, special knives and a gift set (Nashville only), and other one – of – a – kind creations you will only find in our local shops! We will be open all week, closed on December 21/22 for inventory, and open for the very last minute shoppers on December 23.
MOBILE WINTER CAMP TRADING POST
We'll see you at Boxwell on December 27, 28, and 29 with goodies, cold drinks, and special purchases. Phone your special hoodie pre-order into the Scout Shop today at 615.383.0753 !
100th Anniversary Jamboree September 24-26, 2021
The 100th Anniversary Council Jamboree postponed in the fall of 2020 has been rescheduled for September 24-26, 2021 at Boxwell Scout Reservation. Cub Scouts, Scouts BSA and Venturers are invited to come join in the fun activities and the midway featuring displays and booths from the military, community groups and others. Camping will be located throughout the property with most of the events taking place around Camp Stahlman. You will not want to miss the museum that will showcase historical documents, patches, videos, Scouting memorabilia, news articles and photographs that capture Scouting in the Middle Tennessee from 1920 - 2020.
Jamboree Chairman David Garrett and his committee are currently making plans to ensure fun, fellowship and excitement for all. Registration will be available on the council website in April, along with more information on this great event.
12 Point Scout Law Program
National Youth Leadership Training (NYLT) is an exciting, action-packed program designed to provide youth members of the Boy Scouts of America with leadership skills and experiences that they can use in their home unit and in other situations demanding quality leadership. This training integrates the best of modern leadership theory with Scouting through activities, presentations, challenges, while engaged in a unified approach to leadership. Using a wide range of activities, events, games and adventure, participants put into action the leadership skills they are learning.
Registration is now open. Course # 1 is under the leadership of Rick DiSilvio of Clarksville. Course # 2 is under the leadership of Michael Moore of Brentwood. Each of these Scoutmasters are working with their respective youth and adult staffs to provide a quality experience that your future leaders shouldn't miss out on.


Northern Tier High Adventure Program
In 1923, just 13 years after the birth of Scouting in the United States, organized Scout groups made their first trips into the Minnesota-Ontario Border Wilderness Country.
Northern Tier is the BSA's oldest National High Adventure Program, outfitting Scouting groups for canoe trips since the summer of 1923.
We invite all Scouts to join us in celebrating 100 years in the 2022 and 2023 summer seasons!
Philmont 2021- Does Your Troop or Crew Want to Go?
Has your troop or crew thought about going to Philmont but missed the opportunity to get scheduled for an adventure in 2021? Well here is your chance to go in 2021 if you are still interested. The Middle Tennessee Council has one crew available for 10 participants (could possibly expand to 12). The dates for this adventure are July 9-22. If your troop or crew is interested, please call Ron Turpin at 615-516-9751 to discuss details. This is a great opportunity for your youth, Don't Miss Out!