Scouting For Food
Don't forget the council-wide food collection drive is on February 13, 2021. Collected materials will benefit the Second Harvest Food Bank and local agencies across the Middle Tennessee area. Click here for more information and how to participate in the event
2021 Camp Card Sale
The 2021 Middle Tennessee Council's Camp Card Sale will begin on February 22, 2021 and run through April 16, 2021. This $5.00 camp card will help your Scouts earn their way to camp and the unit will earn 50% commission on every camp card sold!
The Council will sell five different camp cards for 2021 depending on the location of your Scout unit:
Nashville Area
Clarksville
Columbia/Lawrenceburg/Pulaski
Cookeville/McMinnville
Murfreesboro
Tullahoma
Please click here to learn more, and to register your unit for this year's sale.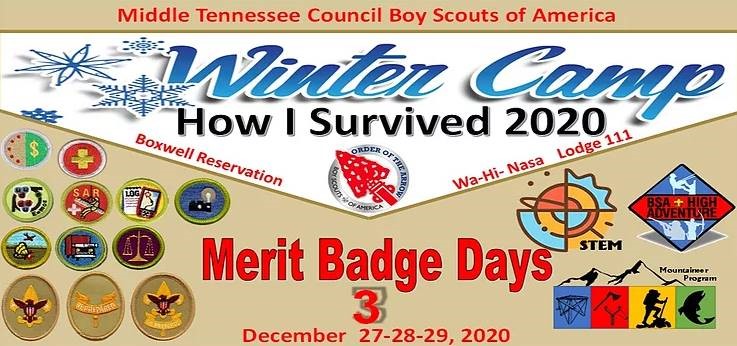 Winter Camp Merit Badge Days 3 is knocking at the door.
Winter Camp is still a GO, this event was postponed to January 30 and 31st
This unique Merit Badge Day is brought to you by our very own Order of the Arrow Wa-Ha-Nasa Lodge. The theme is How I survived 2020, this time your scout will earn a themed patch, enjoy a hearty meal and receive an OA Campfire. This year we are offering 12 merit badges and to have some fun with new treks. These treks will have shooting sports, climbing, backpacking, fishing, tomahawks, sling shots, shooting rockets and more…. Sign up now to ensure your spot for fun. Camp is in just a few weeks. See you all at Camp!
Webelos Winter Weekend postponed to February 6th, 2021
We thank you for your patience and understanding during these times and look forward to a safe and fun event for our Webelos Scouts. We feel that we should still have the program but have created a hybrid program like we have done for the Scouts BSA program. This event will be a one-day program for Webelo Scouts. Scouts will be able to earn three adventures, as well as attend a campfire, and participate in bb, archery and fun games. The cost for the Webelos Winter "Day" is $45 and $10 for any additional adult or siblings. Last day to register for this one-day event will be February 3, 2021. We will not accept walk-ons for this event. If you would still like to purchase your Cubiemon themed long-sleeved shirt the last day to order those shirts will be January 20, 2021.
For more information please visit our website at www.mtcbsa.org Follow us on Facebook at https://www.facebook.com/MTCBSA or at https://www.facebook.com/BoxwellMTC
Klondike Derby - February 19-21, 2021
The Inconceivable Klondike Adventure
Like all great adventures, the Inconceivable Klondike Adventure is made up of several obstacles that are on a trail. Teams can choose their own adventure by choosing their obstacle order and the path taken; however, all teams must complete all the obstacles before they ride off into the sunset. Some magistrates may be bribable. Others may have a higher integrity. All obstacles are judged on teamwork.

Summer Camp Staff
Join the 2021 Summer Camp Staff. Plans are already underway to ensure that Summer Camp 2021 at Boxwell Reservation is an epic year and you will want to be a part of this team! Boxwell Reservation will be turning 100 years in 2021. Boxwell is making some big changes with updates and making our home better. 2021 will offer the same quality programs, traditions we are accustomed to as well as new programs like ATV, sailing, muzzleloader, fishing, and the new Skilled Trades Program at Parnell. With all the plans being made, we will need you and your friends to be a part of this historic team in 2021 to make it happen. If you missed the first interviews your next opportunity is February 20th, 2021 from 9:00 a.m. - 2:00 p.m. at the Council office. All new or returning staff must fill out an application for 2021 !!
Round TUIT February 20, 2021
This Adult Volunteer Service crew as been doing great things at Camp! They meet every 3rd Saturday of the month at Boxwell Reservation from 9 a.m. to 3 p.m. with lunch provided. Work one Saturday and earn an exclusive hat. Work three Saturdays and get a Round TUIT! For more information contact Larry Green at lgreen519@aol.com
Powder Horn
Powder Horn is an Outdoor/High Adventure resource management course designed to motivate and prepare adult and youth leaders to provide their unit with a safe and correct Outdoor/High Adventure activities.
National Youth Leadership Training
National Youth Leadership Training (NYLT) is an exciting, action-packed program designed to provide youth members of the Boy Scouts of America with leadership skills and experiences that they can use in their home unit and in other situations demanding quality leadership. This training integrates the best of modern leadership theory with Scouting through activities, presentations, challenges, while engaged in a unified approach to leadership. Using a wide range of activities, events, games and adventure, participants put into action the leadership skills they are learning.
Registration is now open. Course # 1 is under the leadership of Rick DiSilvio of Clarksville. Course # 2 is under the leadership of Michael Moore of Brentwood. Each of these Scoutmasters are working with their respective youth and adult staffs to provide a quality experience that your future leaders shouldn't miss out on.


Be Prepared! There are only about 350 days until next Christmas, so why wait when there is a deal to be had. Scout Christmas ornaments are 20% off through January 23 and there is a nice selection to choose from in the Nashville Scout Shop. Nashville Scout Shop, 615.383.0753.
2021 MTC Nashville Patron Luncheon
Date & Location Change!
Because of COVID concerns, the Middle Tennessee Council has changed the date and location of the 2021 Nashville Patron Luncheon. The luncheon will now be held on Tuesday, May 11 from 11:30 a.m. to 1:00 p.m. at the Music City Center – Ballroom A. We are excited to have Mr. John C. Maxwell as our keynote speaker. Mr. Maxwell is a New York Times bestselling author, speaker, coach and leader. At the luncheon, we will also recognize our 2020 Scouts of the Year.
The Nashville Patron Luncheon is the Council's primary fundraiser and 60% of the 2021 campaign goal is raised at the event. The luncheon will follow all CDC and local health officials' COVID guidelines.
For sponsorship opportunities or to host a table, please contact Kevin McMurrian, Director of Finance, at (615) 516-9065 or kmcmurrian@mtcbsa.org.
Glenn A. and Melinda W. Adams Eagle Scout Service Project Award.
This Award recognizes valuable service of an exceptional nature by an Eagle Scout candidate to a religious institution, a school, community or other entity through completion of an Eagle Scout project.
How to nominate an Eagle for the award
An Eagle Scout, his parents, or any registered BSA volunteer (with the Eagle Scout's permission) may submit his Eagle Scout service project for consideration.
The submissions must submit the Eagle Scout Service Project Workbook and Eagle Scout Service Project of the Year Nomination Form– including attachments.
Eagle projects have to be completed within the Middle Tennessee Council and The Scout must have passed their Eagle board of review in the prior calendar year (January 1 to December 31, 2020).
The National Deadline is Jan 21 but our Council has extended this to Jan 31 for Middle Tennessee Council ONLY.
Email the Submissions to Vance.Lackey@scouting.org or submit a paper copy to the Middle Tennessee Council Service center.
The Middle Tennessee council NESA committee will choose one winner from among the council nominees. The winner will receive a certificate and a bronze device for the Eagle Scout embroidered knot from the National Eagle Scout Association. The Council winner will go on to compete for the Regional and National Service project of the year. The Region and National Award come with a cash award for the future educational purposes.
Northern Tier High Adventure
Northern Tier is the Boy Scouts of America's gateway to adventure in the Great Northwoods. Northern Tier operates three high adventure bases in Ely, Minnesota; Atikokan, Ontario; and Bissett, Manitoba offering unparalleled wilderness adventures designed to challenge and inspire. if you are looking for an additional High Adventure opportunities for your troop. Don't forget to check out their website at www.ntier.org for Winter 2021 and Summer 2022 High Adventure programs.