Volunteer and Eagle Scout Recognition Event
This year the Middle TN Council Volunteer and Eagle Scout Recognition Event that was set to be held on Sunday, April 25th has been cancelled. We along with Lipscomb University cannot encourage the Scouts of Middle TN to gather in such large groups that this event requires each year. We look forward to having this event next year and recognizing our unbelievable Scouts and leaders. If you have any questions, please contact Vance Lackey at vance.lackey@scouting.org or 615-383-9724.
We will recognize the Silver Beaver recipients on Sunday, April 25th during a live Facebook event. Please look for more information in the future.
Training is Important!
Everyone that is involved in Scouting right now in Middle TN Council is committed and invested in the future of this great movement. So, this is the time, before we engage our communities in a strong recruitment effort, to make sure the foundation of our leadership is Trained. Before we bring new leaders into the program, lets make sure our legacy Scouters are all 100% trained, so that we all can lead the incoming generation of Scouters by example and say with authority that Training is Important! Please make sure to bring your entire Unit up to 100% Basic Trained right now!! Each individual member of the committee will have to access the training portal through my.scouting.org on their own, and take the training that is pertinent to the role they are serving.

Beyond these basic training offerings, our Council provides opportunity for advanced training found at the Spring and Fall University of Scouting events, Powder Horn, NYLT, and Wood Badge. Each of these amazing trainings will take the participant well beyond the level of the average Scouter and transport them to the very highest levels of the Scouting movement.
Family Scouting at Cubworld
Our new Resident Camps at Boxwell Reservation Cubworld offer a unique, non-stop, family fun camping experience for you and your Scouting Family. You will make unforgettable family memories at Cubworld with your Scout. All you need to bring is your gear; we will provide the program, food, tent, cot, mat, and an exciting experience. This year's theme is Cubbie-Mon "Got to Catch em All".
Family Scouting at Cubworld is truly a unique opportunity for our Scouts and Families. For more information go to https://www.mtcbsa.org/familyscouting and sign up your Family For FUN!
Day Camp 2021
Scout Parents and Volunteers: We are gearing up for the outdoors this summer with the return of Day Camp! Leaping into a location near you, our Super Heroes themed Day Camps will provide tons of fun-filled memories. Scouts who will be entering first through fifth grades will have the opportunity to participate in numerous FUN activities at Day Camp which may include shooting bb's, sling shots and archery equipment, playing games, field sports, participating in arts and crafts, nature and other activities unique to Cub Scouting!
To register your Scout to participate at a camp or yourself as volunteer, please go to: https://www.mtcbsa.org/DayCamp. If you do not see a camp in your area or district, check back often as we are working to add additional camps in the coming weeks.
The early bird cost is $90 per child through May 4, 2021. If your child is new to Scouting there will be additional fees to register them into the Scouting program. There is no cost to register as an adult volunteer.
We look forward to seeing our Scouts and parents at Day Camp this summer and having a Super Heroes themed blast!
Latimer Cub and Family
Mark your calendar and plan to attend the spring Cub and Family at Latimer on April 16-18. Come enjoy a weekend of fun and adventure.
If you would like to assist with the event please contact Ron Turpin at rturpin@mtcbsa.org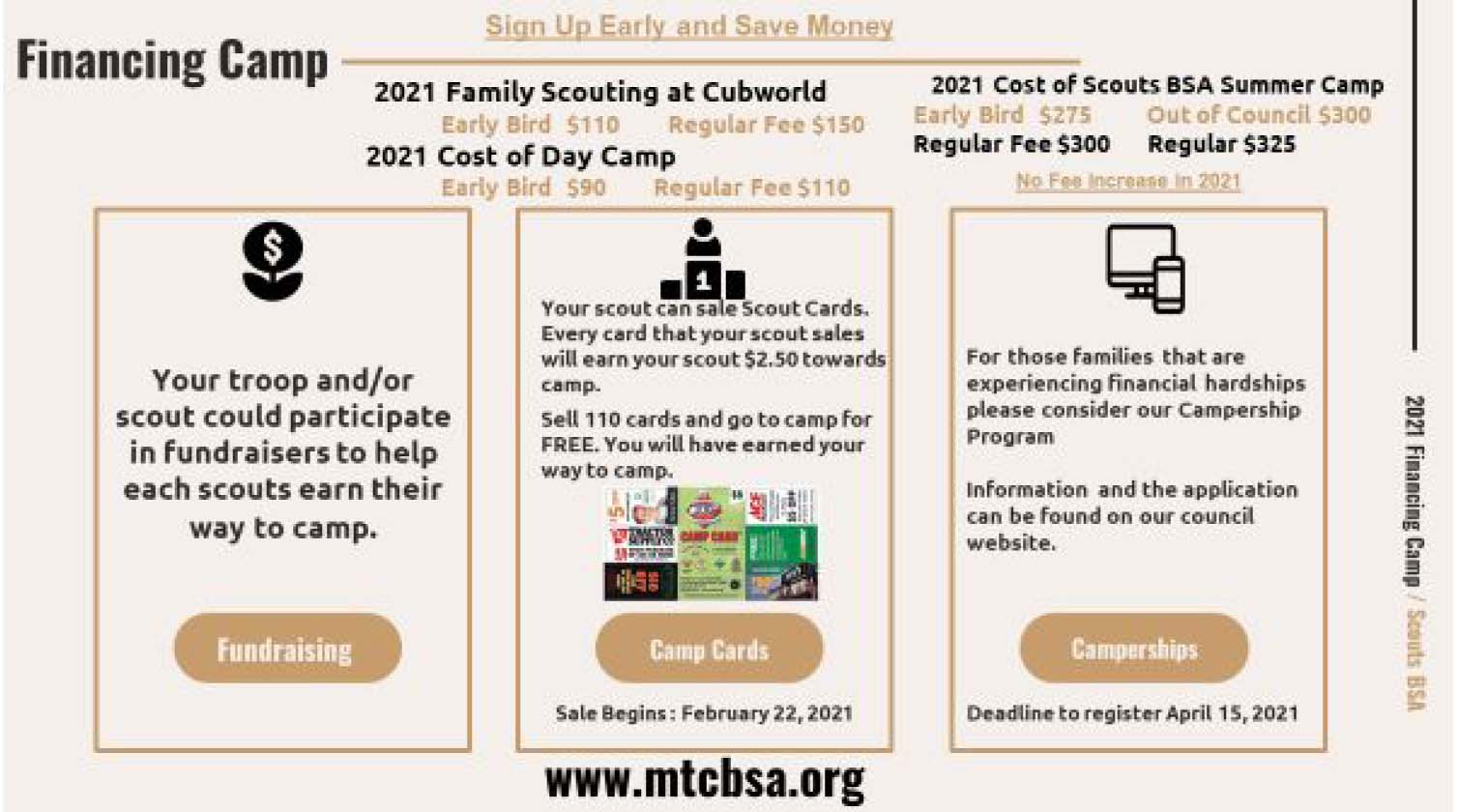 Join the 2021 Summer Camp team at Boxwell Reservation. This year you Are the camp as we celebrate our centennial year as Staff.
Sign up at https://www.mtcbsa.org/campstaffopportunity
We still need Stem instructors, Rifle and Archery instructors, Green Bar instructors, Kitchen help, Heath Lodge Medical Staff, Lifeguards, Instructors and more
Join Our Amazing Staff and be apart of the Centennial Team
National Youth Leadership Training
National Youth Leadership Training (NYLT) is an exciting, action-packed program designed to provide youth members of the Boy Scouts of America with leadership skills and experiences that they can use in their home unit and in other situations demanding quality leadership. This training integrates the best of modern leadership theory with Scouting through activities, presentations, challenges, while engaged in a unified approach to leadership. Using a wide range of activities, events, games and adventure, participants put into action the leadership skills they are learning.
Registration is now open. Course # 1 is under the leadership of Rick DiSilvio of Clarksville. Course # 2 is under the leadership of Michael Moore of Brentwood. Each of these Scoutmasters are working with their respective youth and adult staffs to provide a quality experience that your future leaders shouldn't miss out on.


Spring Shindig
This year for Spring Shindig, we're going back to our roots by putting high adventure, excellent program, and cheerful service back in the spotlight. This will include such activities as COPE, shooting sports, meaningful service projects, and a rarely seen but crowd favorite, virtual reality. To add to the fun, the entire weekend will be a competition, with each squad competing for the coveted Shindig Shield. The theme for this year's Spring Shindig will be Lost in Time, and every aspect of the event will incorporate this theme. It will be at Boxwell Reservation, the weekend of March 12-14th, with check-in at 5 PM on Friday. To register for Spring Shindig, head on over to wa-hi-nasa.org/register before February 21st with early bird rate $30, If you miss the February 21st deadline, the cost will go up to $35 until March 7th, when registration closes completely, with no walk-ons allowed due to COVID-19. Speaking of, make sure you fill out the pre-event medical screening checklist and have your medical forms ready for this event. You won't want to miss it.
Philmont 2022
Have you thought about taking your troop or crew to Philmont? The Middle Tennessee Council has been assigned two crews (24 people) for the summer of 2022. If you have an interest or would like to take advantage of these crews, please contact Ron Turpin at rturpin@mtcbsa.org.

2021 Scout Card Sale
The Scout Cards are here! Schedule time get your units Scout Cards. You can pick up cards with your District Scout Card Chair, District Executive, or at the Middle Tennessee Council office. Cards will be distributed based on sign up and while supplies last. To register to for the sale, click here.
UPDATE! We have extended the 2021 Scout Card Sale through May 28, 2021. With the extension of the Scout Card Sale, the final turn in date is now by June 4, 2021.


The change in the Camp Card Sale Calendar (original dates were in April and May):
Camp Card Sale ends May 28. To register to for the sale, click here.

All monies due by June 4 to receive the full 50% commission*.

Units who submit monies between June 5 and June 19 will receive $2.00 commission.
Payment after June 19 – no commission; All cards are due. Settle remaining accounts.

Units may pick up incentive for Scouts that sell 175 cards after June 22.
If you have any questions on how to proceed with this year's sale, please contact District Camp Card Chair, District Executive or Vance Lackey at Vance.Lackey@scouting.org or 615-707-9002
It's time to design a NEW CSP
and we are inviting you to do it!
Send your design to Joe Priester, Middle Tennessee Scout Shop, 3414 Hillsboro Pike, Nashville, TN, 37215. jpriester@mtcbsa.org

You may enter more than once. Include your name and contact information on each design.

All designs must be postmarked no later than March 31, 2021.

Sorry, but designs cannot be acknowledged or returned.

The winning design will be selected by a panel of MTC Scouters no later than April 30, 2021, and the winner notified by May 2. The winner will receive a free CSP and will be pictured in the next Jet Trails.
How about a custom made Shamrock Hoodie in time for St. Patrick's Day?

There will not be any leftovers so place you order soon! Only $30 and available in adult sizes of small, medium, large, x-large, 2x, and 3x. You must place your order by February 26 by calling the Nashville Scout Shop at 615.383.0753.