Latimer Cub and Family
This Cub Scout event is located at our beautiful Latimer Reservation in Spencer, TN. This family camping weekend provides a STEM-oriented camping theme as Cub Scouts work on their NOVA awards. Cub Scouts will have fun launching water rockets, seeing the stars and other activities such as BB guns, fishing, human football, and lots of FUN!
Mark your calendar and plan to attend the spring Cub and Family at Latimer on April 16-18. Come enjoy a weekend of fun and adventure.
If you would like to assist with the event please contact Ron Turpin at rturpin@mtcbsa.org
100th year Camporee at Boxwell
In celebration of the Middle Tennessee Council's 100th Anniversary, MTC is hosting an area Camporee. Welcome to Boxwell Reservation for the Viking Warrior Challenge. Don Ingram and his leadership team are supported by the five surrounding districts. We would like to welcome everyone to the 2021 One Hundred Years of Volunteers of Scouting in the Middle Tennessee Council and Boxwell Reservation. Volunteers from across your Council are coming together at Boxwell Reservation to enjoy, The Viking Warrior Challenge, and to enjoy a weekend of Scouting fun with our boys and girls. We have planned many games and patrol competitions and days of fellowship. We look forward to seeing you all at Boxwell Reservation on April 30th – May 2nd, 2021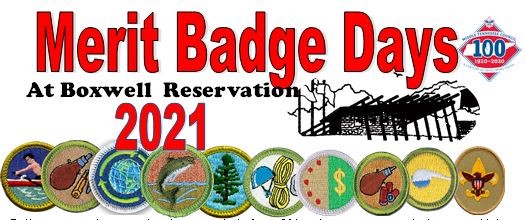 Spring Merit Badge Days
Exciting news as we have created another opportunity for Scouts BSA to advance in the program. Merit Badge Days was a huge success in 2020 and due to Covid-19, we feel that this would be the best option to stay safe during these times. This merit badge day will replace the 2021 Spring Jamboree at camp Arrow Head. On April 10th and April 11th Boxwell Reservation we will be hosting a Merit Badge Day(s) as we did before. Same concept, same style but this time we are offering over 15 UNIQUE Merit Badge Classes, our Winchester Marksman Program, Adult Training opportunities and the opportunity to learn the history of Boxwell Reservation.


This ONE-DAY opportunity will allow your Scouts to work on a merit badge that will help them in their journey to Eagle Scout while learning a unique merit badge. Your Scout can sign up for this one-day merit badge class or sign up for both.


The Cost is $35 per day and lunch is provided. Each session is limited to 20 or less Scouts and will be on a first come, first served basis. This group will stay together all day and will not comingle with other groups at camp. Parents who are interested in staying have the option to purchase a lunch for $5. Please bring a water bottle, paper and pencil and other items needed for your session.


Scouting for Food
2021 Scouting for Food was a huge success. We collected over 40,000 pounds of food for local food pantries up from 23,000 pounds last year. Thank you to all units that participated and a big congratulations to Pack 351 in Spring Hill, they led the way with over 4,500 pounds of food collected. The patches will come in next month and be distributed to units that reported their totals. Thank you all so much for making this service project a huge success!
Family Scouting at Cubworld
Our new Resident Camps at Boxwell Reservation's Cubworld offer a unique, non-stop, family fun camping experience for you and your Scouting Family. You will make unforgettable family memories at Cubworld with your Scout. All you need to bring is your gear; we will provide the program, food, tent, cot, mat, and an exciting experience. This year's theme is Cubbie-Mon "Got to Catch em All".


Family Scouting at Cubworld is truly a unique opportunity for our Scouts and Families. For more information go to https://www.mtcbsa.org/familyscouting and sign up your Family For FUN!
Day Camp 2021
Scout Parents and Volunteers: We are gearing up for the outdoors this summer with the return of Day Camp! Leaping into a location near you, our Super Heroes themed Day Camps will provide tons of fun-filled memories. Scouts who will be entering first through fifth grades will have the opportunity to participate in numerous FUN activities at Day Camp which may include shooting bb's, sling shots and archery equipment, playing games, field sports, participating in arts and crafts, nature and other activities unique to Cub Scouting!
To register your Scout to participate at a camp or yourself as volunteer, please go to: https://www.mtcbsa.org/DayCamp. If you do not see a camp in your area or district, check back often as we are working to add additional camps in the coming weeks.
The early bird cost is $90 per child through May 4, 2021. If your child is new to Scouting there will be additional fees to register them into the Scouting program. There is no cost to register as an adult volunteer.
We look forward to seeing our Scouts and parents at Day Camp this summer and having a Super Heroes themed blast!


Scouts BSA Summer Camp!
It is time to get back to Camp!!!! Registration for Scouts BSA is now Open as well for the Merit Badge classes!
If your troop has not registered to go to camp this year, contact the camping Department at camping@mtcbsa.org and reserve your spot for this epic year as we celebrate Boxwell's Centennial year. The leader's guide can be view at https://www.mtcbsa.org/scoutsbsasummecamp. Moreover, if your Scout signs up for summer camp they will receive a once in a lifetime Boxwell anniversary patch for summer camp.
Boxwell Summer Camp Staff for 2021
We are still in need of Summer Camp Staff for 2021 We still need STEM instructors, Rifle and Archery instructors, Green Bar instructors, kitchen help, Heath Lodge Medical Staff, Lifeguards, Instructors and more. Contracts will be going out before the end of the month, please sign up at https://www.mtcbsa.org/campstaffopportunity and join the Summer Camp team for Boxwell Reservation
National Youth Leadership Training
National Youth Leadership Training (NYLT) is an exciting, action-packed program designed to provide youth members of the Boy Scouts of America with leadership skills and experiences that they can use in their home unit and in other situations demanding quality leadership. This training integrates the best of modern leadership theory with Scouting through activities, presentations, challenges, while engaged in a unified approach to leadership. Using a wide range of activities, events, games and adventure, participants put into action the leadership skills they are learning.


Registration is now open. Course # 1 is under the leadership of Rick DiSilvio of Clarksville. Course # 2 is under the leadership of Michael Moore of Brentwood. Each of these Scoutmasters are working with their respective youth and adult staffs to provide a quality experience that your future leaders shouldn't miss out on.


MTC Holds Second Short-Term Camp Administrators Certification
To meet the needs of Short-Term Camp Administrators in our Council we are conducting our second certification course on Saturday, May 22, 2021. This certification will be held at the Jet Potter Scout Service Center beginning at 8:00 AM. However, if the Protocols of COVID 19 restrict us from in person we will conduct via ZOOM.
The cost for the course is $60.00 which includes lunch.
Philmont 2022
Have you thought about taking your troop or crew to Philmont? The Middle Tennessee Council has been assigned two crews (24 people) for the summer of 2022. If you have an interest or would like to take advantage of these crews, please contact Ron Turpin at rturpin@mtcbsa.org.

Official Climbing Instructor Level II training now available in the Middle TN Council
The Middle TN Council Cope and Climbing committee is proud to announce we have recently received our accreditation to officially offer Climbing Instructor Level II training through our Council.
The program requires two weekends to complete. At the end of the first weekend you will qualify to receive your Climbing Instructor Level I trained card (valid 1 year). Then coming to a second session and helping provide instruction, and exhibiting proficiency in the taught skills, will qualify you to receive your Climbing Instructor Level II card (valid 3 years).
Once you have your Climbing Instructor Level II card you will be a qualified instructor and able to take your unit outdoor climbing. You may do so by renting a climbing kit from the council or using your own gear.
Mark your Calendars for our Round Tuit program at Boxwell on March 20th from 9am till 3pm. This year, we are opening up to anyone to come out and earn some volunteer service hours and adults work on their Round TUIT. We have a lot of work that needs to be done at Boxwell Reservation. So grab your gloves and put on your boots and lets get to work at our HOME at Boxwell Reservation. See you at camp! Please email Larry Green to let us know you will be attending at lgreen519@aol.com
It's time to design a NEW CSP
and we are inviting you to do it!
Send your design to Joe Priester, Middle Tennessee Scout Shop, 3414 Hillsboro Pike, Nashville, TN, 37215. jpriester@mtcbsa.org

You may enter more than once. Include your name and contact information on each design.

All designs must be postmarked no later than March 31, 2021.

Sorry, but designs cannot be acknowledged or returned.

The winning design will be selected by a panel of MTC Scouters no later than April 30, 2021, and the winner notified by May 2nd. The winner will receive a free CSP and will be pictured in the next Jet Trails.
The Shamrock Cap is back and in big demand!
This is a fun cap that has become very popular over the past two years. It is great for individuals and entire BSA patrols to wear. Show your GREEN! Available at all Middle Tennessee Council shops in Nashville, Clarksville, and Murfreesboro. $14.99 while supplies last.