100th year Coffee Table Book
Pre-orders for this historic photo book can be placed at the link below until November 30, 2021. Only a limited number of copies will be available for purchase after printing. Books will be delivered after the conclusion of the Anniversary year celebrations in 2021. Click here to view another sneak peak of the 100th Anniversary Coffee Table Book!


Excitement Begins for 100th Anniversary Council Jamboree
The 100th Anniversary Council Jamboree is scheduled for September 24-26, 2021 at Boxwell Scout Reservation. You don't want to miss this once in a lifetime experience. Cub Scouts, Scouts BSA and Venturers are invited to come join in the fun activities and the midway featuring displays and booths from the military, community groups and others. Camping will be located throughout the property with most of the events taking place around Camp Stahlman. You will not want to miss the museum that will showcase historical documents, patches, videos, Scouting memorabilia, news articles and photographs that capture Scouting in the Middle Tennessee from 1920-2021.
Participants will enjoy separate (one for Cub Scouts and one for Scouts BSA/Venturers) exciting fun packed arena shows on Saturday evening at the amphitheater.
And…yes, there will be food vendors with hamburgers, hot dogs, pizza, tacos, funnel cakes, soft drinks and ICEES. The Nashville Association of Food Trucks has agreed to attend the Jamboree on Saturday with a variety of food choices. Units may wish to plan their meals for Saturday with this in mind.
Jamboree Chairman, David Garrett, and his committee have been making plans to ensure fun, fellowship and excitement for all.


Announcement of New MTC CSP!!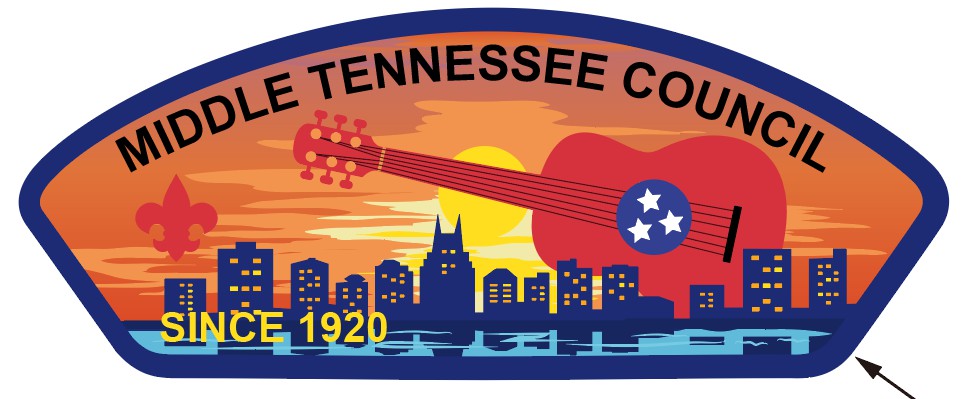 The Middle Tennessee Council (MTC) is excited to announce the debut of a new Council Shoulder Patch (CSP) for use on the BSA uniform. This new MTC CSP was selected from the many submissions made earlier this year from both youth and adult Scouters from across the Council.


The new patch showcases the rich history of music from Middle Tennessee as well as the downtown skyline of Nashville with the Cumberland River that flows through many of our counties.


The new CSP is now available for purchase at our Scout Stores, Clarksville, Murfreesboro, and Nashville as well as at Boxwell Scout Reservation.


Finally, it's important to note, all previous MTC CSPs remain approved to wear on the uniform.
Family Scouting at Cubworld

Family Scouting at Cubworld offers a unique camping experience for your Scouting Family. You will make unforgettable memories at Cubworld with your Scout. All you need to bring is your gear; the council will provide the program, food, tent, cot, mat, and an exciting experience. This year's theme is Cubbie-Mon "Got to Catch em All". Cubwold offers a Castle, Fort, Native American Village, 2 Pirate Ships, Gaga Ball, BB Guns, Archery, Canoes, Kayaks, Fishing, and an amazing Campfire that you do not want to miss out on. For more information and to sign up go to https://www.mtcbsa.org/familyscouting.
MTC TV
IF you don't want to miss out on any announcements or recaps from activities going on across the Council, DON'T FORGET to subscribe to the Council YouTube Channel! REMEMBER to keep up with our MTC TV episodes as we feature different units and events. We are always looking for any positive stories in the community that you may want to highlight in your unit. If you want to share your story, please contact our Marketing and Communications Coordinator, Victoria Leuang at vleuang@mtcbsa.org
National Youth Leadership Training
National Youth Leadership Training (NYLT) is an exciting, action-packed program designed to provide youth members of the Boy Scouts of America with leadership skills and experiences that they can use in their home unit and in other situations demanding quality leadership. This training integrates the best of modern leadership theory with Scouting through activities, presentations, challenges, while engaged in a unified approach to leadership. Using a wide range of activities, events, games and adventure, participants put into action the leadership skills they are learning.


Our first course for 2021 concluded on Friday, June 4 with 35 Scouts completing this session. The week provided the Scouts with learning new things, facing challenges, and making friends for life. Each Scout had the opportunity to serve in a leadership role in their patrol throughout the week.


Our second course scheduled for July 25-July 30 is full at this time, however we encourage those interested to sign up for the waitlist. There is a possibility that we may have an opening come available. If you have any questions, please contact Ron Turpin at rturpin@mtcbsa.org.

Calling all MTC Scout units!
The 2021 Middle Tennessee Popcorn Sale will be kicking off soon! We will hold 2 popcorn kickoff/orientations on Saturday, July 10 and Saturday, July 17 from 10:00 a.m. to 12 noon. You have a choice in attending the kickoff in person or by Zoom!
Click on the button below to reserve your spot at one or both of these kickoffs! Come have some fun with us and earn popcorn samples and door prizes!!


2021 Sporting Clays Fun Shoot
The 19th Annual Middle Tennessee Council, Boy Scouts of America's Sporting Clays Fun Shoot is on Saturday, August 21st at the Nashville Gun Club. This is a 100 target competitive round of sporting clays including shells, meals and prizes for a four member team. This event is designed to provide you and/or your business an employee morale/team building opportunity by sponsoring a team. Additionally, local businesses also have the option of sponsoring a "YOUTH TEAM" which allows five Scouts BSA or Scholastic Trap members to participate in a highly rated clay target shooting event. For more information and to sign up click here.
Wood Badge 2021

Wood Badge is THE premier advanced Leadership Training opportunity in the Boy Scouts of America, and YOU have the opportunity to attend this year. The course covers one weekend in both August and September and when you attend, you WILL have the time of your life! Wood Badge is the mountaintop experience you keep hearing about, so why put it off until next year? Just sign up now! Slots ARE filling up quickly at this point, so you want to act fast. To register, please Click the button below.